Nike TIEMPO LEGEND V FG: Soccer Cleats That Professional Soccer Players Are Opting For
Nike TIEMPO Legend V FGCertainly soccer is the most popular sport on the globe, yet very little research has been published regarding soccer biomechanics especially on the significance of footwear for the sport. When it comes to soccer shoes, comfort is usually the highest priority for players followed by stability and traction. Cleat arrangement and design are essential shoe features that facilitate quick accelerations and stops, turns and rapid cuts. The design of a soccer shoe can influence kicking accuracy, shooting speed and certainly the game of soccer. The new Nike TIEMPO LEGEND V FG cleats have managed to overcome the challenge of offing better performance and injury prevention to soccer players, with a number of unique characteristics as follows: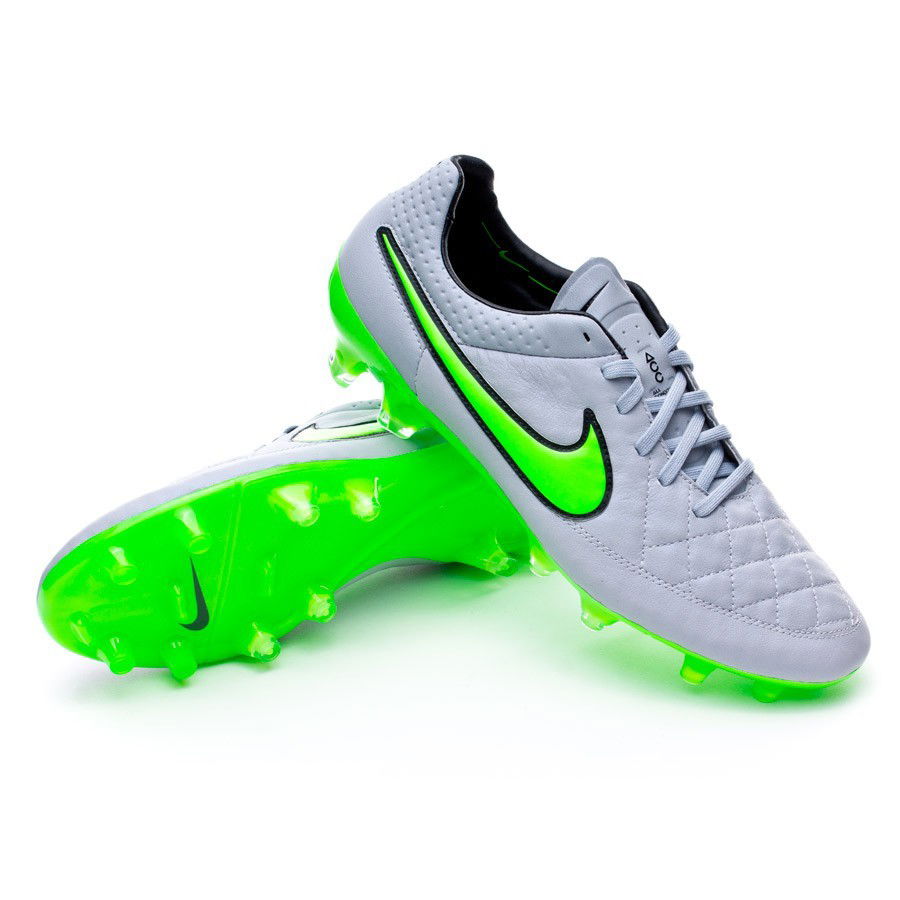 Perfect fit for any foot
These cleats use hyper shield technology to block moisture and ensure the fit stay snug longer. They are made of ultra-soft kangaroo leather, which adapts to the shape of any foot to ensure a perfect fit, providing exceptional comfort and support. Ordinary soccer cleats are notoriously narrow and tight. Combine this with a flexible, unsupportive upper and you have ankle and foot injuries. However, these Nike cleats match with any foot depth, width and length to fit properly. A wider shoe waist supports the mid-foot correctly and prevents excessive pronation.
Optimal ball touch
The Nike cleats combine the All Conditions Control technology with Kanga-Lite and premium kangaroo leather to create a soft, water-resistant upper that allows for the optimal ball touch in all weather conditions. With normal soccer cleats, shooting the ball you are on top of is very difficult since you lose accuracy and power. The task becomes much harder if the ball is in an awkward position. How well you touch the ball depends on the surface area and condition of your shoe's surface. No amount of practicing can help you if you do not have the right shoes that offer maximum ball touch.
Maximum traction
These Nike soccer cleats have engineered plates specifically designed to move with your feet for transitional comfort and flexibility. A combination of direct-inject blades and cone-shaped cleats maximize traction and surface penetration while diffusing cleat pressure. These shoes are perfect for professional soccer players because they are versatile for most types of fields and many weather conditions. Their design allows players to play on all surfaces while keeping their footing, making quick turns, and possessing the ball with ease. The shoes also enhance stability as well as lateral movements.
More features available
Firm-ground (FG): This allows them to be very effective on turfs with short grass that are slightly wet but hardly muddy.
Full-length TPU plate: It adds extra stability on the field, and ensures durability of the cleats despite the harsh treatment.
Internal heel TPU counter: This helps with lockdown, and protects a player from impact, to prevent injuries.
Molded EVA sock liner: Offers excellent arch support, and shields the player from impact to avoid small injuries.
Customer reviews and ratings
As expected, the product has received numerous reviews from customers on online shopping platform especially from Amazon, where it has received an average rating of 5 stars. Most of the reviews are positive with only a few negative ones. Some customers have exclaimed how the boot is amazing and great to wear, others say how the cleats have a nice first touch, and still others say how good they look. A few customers have complained about the durability of the boots, saying they leather tears quickly. However, what all customers seem to agree on is that the shoes are very comfortable.
The bottom line
Excelling at soccer begins with what is on your feet. Whether you need soccer cleats for men and women, you must consider various factors very carefully. You must consider what kind of control and traction you gain as well as the comfort of the shoes. You need to view your cleats as an extension of you when you are on the playing field. You must balance between style, colors, personality and comfort to find the shoes you want. No doubt, the Nike TIEMPO LEGEND V FG meets all your soccer shoes requirements, with a perfect fit, optimal ball touch and maximum traction, all at a very affordable price.